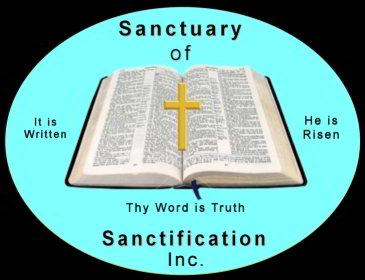 Sanctuary of Sanctification Ministries."To help members develop toward full Christian maturity and train them for effective ministry. To promote personal spiritual growth and discipleship through Bible teaching." (Ephesians 4:11-13, Matthew 18:20,
2 Timothy 2:2)
"Act 8:26 And the angel of the Lord spake unto Philip, saying, Arise, and go toward the south unto the way that goeth down from Jerusalem unto Gaza, which is desert.
Act 8:27 And he arose and went: and, behold, a man of Ethiopia, an eunuch of great authority under Candace queen of the Ethiopians, who had the charge of all her treasure, and had come to Jerusalem for to worship,
Act 8:28 Was returning, and sitting in his chariot read Esaias the prophet.
Act 8:29 Then the Spirit said unto Philip, Go near, and join thyself to this chariot.
Act 8:30 And Philip ran thither to him, and heard him read the prophet Esaias, and said, Understandest thou what thou readest?
Act 8:31 And he said, How can I, except some man should guide me? And he desired Philip that he would come up and sit with him."